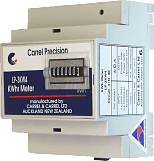 Model LP-3KW4

LP-3KW4 data sheet.
LP-3KW4 Kilowatt Hour Meter
The LP-3KW4 energy meter is a 3 element device with 3 CT inputs giving true readings on 4 wire unbalanced systems.
In addition to the integral 7 digit counter there is a pulse output for use with data loggers or similar electronic recorders and controllers.
The compact circuitry employed allows this meter to be housed in a standard 4M wide DIN rail mounting case.